The NEW Ohr Avigdor Shaar Habitachon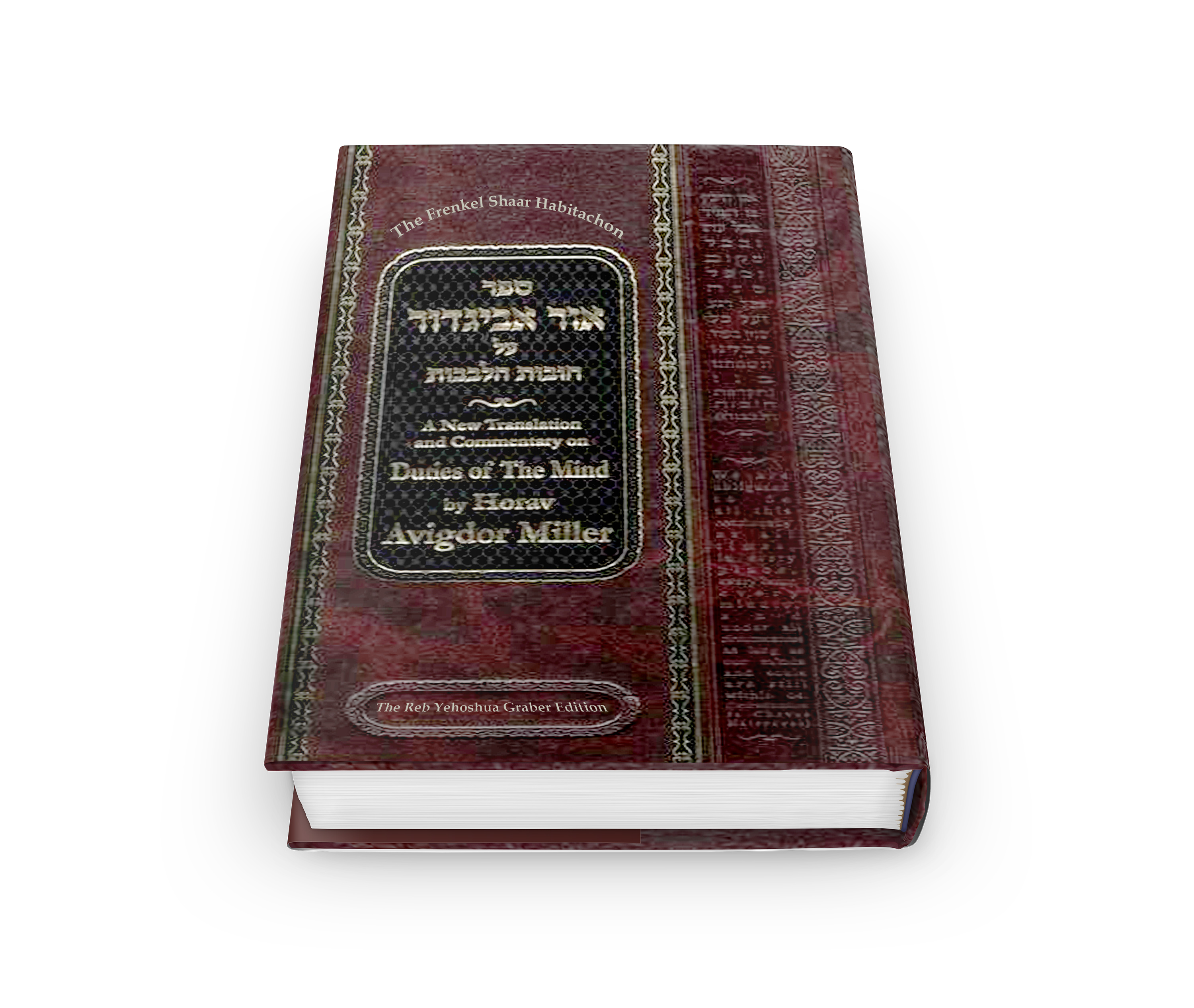 It's been two years too long.
That's what Rabbi Avigdor Miller fans tell us about the long-awaited release of the new Ohr Avigdor Shaar HaBitachon, the fourth volume in the epic Ohr Avigdor series on Chovos Halevavos. It is now in sfarim stores everywhere — and like the previous three volumes, it's making a big splash, with many readers calling it the "must-read" sefer of the Pesach season.
Chovos Halevavos is the seminal sefer on the mitzvos of the mind; Rabbi Miller called it the "most important book on the topic besides the Gemara." Shaar Habitachon is quite likely its mostly widely studied chapter. In it the reader discovers Rabbeinu Bachya's course in achieving true, deep trust that all is from Hashem and all is for good. Like the rest of the sefer, however, it is a dense and impenetrable text; many readers find it difficult to approach, or even misunderstand key concepts.
With an all new translation by Rabbi Miller himself, Rabbi Miller's new Ohr Avigdor commentary opens up worlds within the text of Chovos Halevavos. "Some readers tell us they've studied Chovos Halevavos already," observes Aryeh Zev Narrow, director of Simchas Hachaim Publishing. "We challenge them study it anew with Rabbi Miller's commentary. Without fail, they are amazed at how Rabbi Miller's commentary reveals the great depths beneath the surface of Rabbeinu Bachya's words."
The publishers believe the Ohr Avigdor series is the first new perush on Chovos Halevavos for perhaps 100 years. Like the previous volumes, the superbly rendered Ohr Avigdor Shaar HaBitachon, which runs close to 500 pages, is the handiwork of Rabbi Yitzchok Kirzner, a veteran writer and editor. Rabbi Kirzner reflected, "I feel highly privileged to be so intimately involved in the thought processes of a gadol such as Rabbi. I find that Rabbi Miller's perspective on life now affects my own thinking throughout the day."
Bitachon: The Hardest Test
"Rabbi Miller often said that the hardest test a person faces is the test of bitachon," Mr. Narrow continued. "In Shaar HaBitachon, Rabbi Miller delves into this challenge, and the reader is rewarded with a deeper understanding of some of life's hard questions: "Am I doing too much hishtadlus for parnassa? For a shidduch? For a refuah? Or am I not doing enough?"
Rabbi Kirzner adds, "Shaar Habitachon is perhaps the most down-to-earth section of Chovos Halevavos. It answers the questions we all face every day about the inherent difficulty of reconciling hishtadlus with bitachon."
"Rabbi Miller was very conscious of the unique challenge presented by the mitzvah of bitachon and he gave his listeners extensive guidance using many examples taken from daily life."
A New Landmark in an Acclaimed Series
Like all volumes in the Ohr Avigdor series, Shaar Habitachon features the full Hebrew text of the shaar together with the English translation and Rabbi Miller's enlightening commentary. This newest volume also sports a handsome new layout that makes it a pleasure to read.
Simchas Hachaim Publishing, now in its fourth year of spreading Rabbi Avigdor Milller's teachings, was itself an outgrowth of the Ohr Avigdor series. The Hakdama was the organization's first publication, back in 2008. Since then, the organization has made a name for itself as a premier Torah publishing house, with landmark successes such as A Divine Madness and Ohr Avigdor Shaar HaBechinah to its credit. It has since expanded to a full, multimedia publisher purveying text, audio and (in the not so distant future) video, plus a free inspiring daily e-magazine at LivingWithHashem.com. It is a project of Yeshiva Gedolah Bais Yisroel, under the leadership of Rabbi Shmuel Miller shlita. All proceeds benefit the Yeshiva.
Ohr Avigdor Shaar HaBitachon is available from sfarim stores or http://www.simchashachaim.com/books/ohr-avigdor-shaar-bitachon/.
Recent Posts
The NEW Ohr Avigdor Shaar HabitachonIt's been two years too long.That's what Rabbi Avigdor Miller fa …

A dusty box of old audio reels contained a delightful surprise for students of Rabbi Avigdor Miller: …

Each day before setting out for a walk, HaRav AvigdorMiller ztl, took a moment to peruse the siddur …